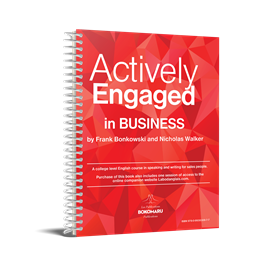 Actively Engaged in Business
This course is a digital resource only. There is no textbook. There are, however, PowerPoint lessons, handouts, card games, evaluations, video tutorials. and rubrics to choose from to make teaching easier.
There are 23 production tasks to do online. Teachers can select a subset or assign them all. Each task comes with instructions and evaluation.
Job interview and Cover Letter Midterm
All units build toward a final marketing development project. First students prepare for a job interview at the midterm. Instead of presenting facts and opinions, students get practice developing storytelling skills used in sales. They also get practice step-by-step talking about their qualities and skills, defining the job they want, creating a multimedia glossary, preparing a video CV, creating a LinkedIn profile, doing a job search, creating a paper CV, a cover letter, practicing job interview questions with a job interview chatbot, and finally performing a job interview with classmates.
Digital Marketing Final Projects
In the second half of the semester, students imagine that they have been hired by a digital marketing company. their first task is to do research for a client who wants an ecommerce website for $2000. Can it be done? The students must do the research on popular freelancer hubs like Fiverr.com to find out how much each element of the project costs and present their findings in a PowerPoint presentation. The budget is tight, so students get practice giving bad news and offering alternative timelines and budgets.
Then, we imagine that the client is so impressed with their research, he decides to hire them to build an ecommerce website. Students must choose a website development platform, write an about page that emphasizes the "why" of their company, write list articles (listicles), flyers with product descriptions, inbound sales chatbots, and then report on their progress as the final project of the semester.
Needless to say, students love the practical skills they develop and the creativity of the projects. Building these many digital resources instills confidence in students of every proficiency level. Teachers love the cohesion and support the materials provide.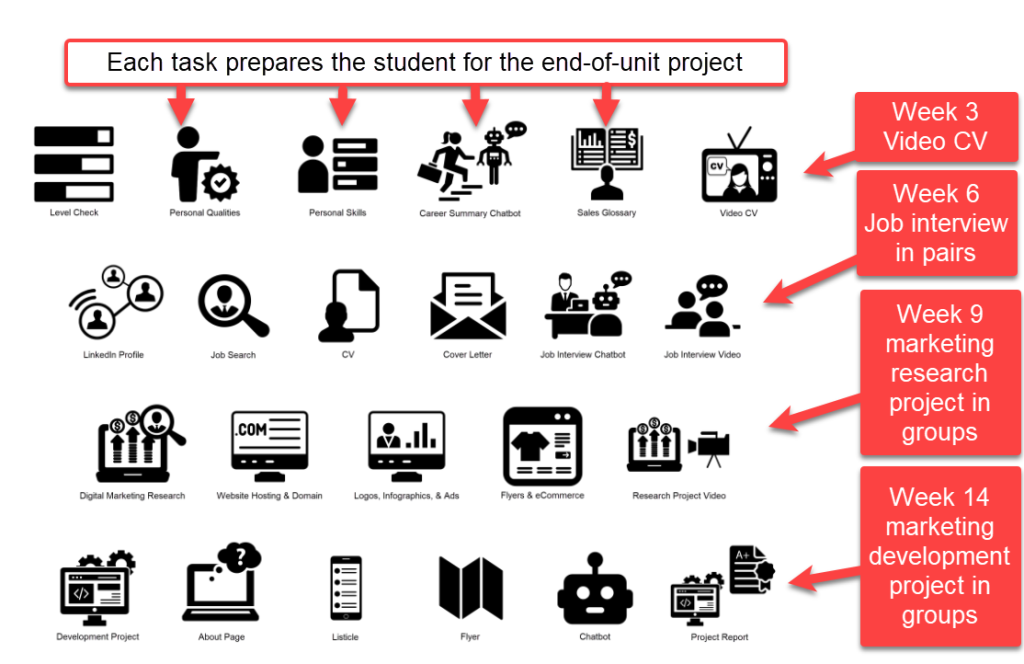 Business English Objectives
This course is best suited for students interested in digital marketing and sales. These are the objectives it addresses.
To communicate in English with the personnel and directors of an establishment or company, by preparing a LinkedIn profile, a CV, a cover letter, and by rehearsing job interview questions and answers.
To receive and transmit information orally, by interpreting oral instructions, requesting clarification as needed, and executing specific business-related tasks.
To interpret the context of documents written in English, by reading instructions and performing specific business-related tasks.
To deal with clients and suppliers, by email, with a chat widget, and face to face
To establish contact with a client by email, in person, and through online marketing materials.
To respond to a client's request for product information, by email and with the video conferencing.
To take the client's objections into consideration, by asking follow-up questions and by offering alternatives.
To negotiate with suppliers, by hiring freelancers, explaining a need, and placing an order.
A course with personality
Students learn practical skills in this course. Although there is marketing research project, the course is not about academic research and debate. Students do not learn to write essays. Instead, students use their digital literacy and creativity to sell their talents and products through sales stories and to build an ecommerce website.
Students work together in groups, but the focus is not on getting to know each other. They have been in the program together for two years already. Rather collaboration is aimed at getting big jobs done efficiently and checking each other's work for quality.